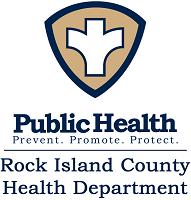 RI County Health Department Offering Walk-In Clinics for School Vaccinations
Vaccines available for measles and other required immunizations
As cases of measles continue to rise across the U.S., the Rock Island County Health Department (RICHD) is taking action to prevent this serious illness and increase vaccination rates.
 We will offer walk-in vaccination clinics every Thursday through September 26, 2019.  The hours are 9 a.m. to noon and 1-4 p.m. at the health department, 2112 25th Ave., Rock Island. All school-required vaccinations will be available during this clinic. Other dates are available by appointment. Please call 309-794-7080. Vaccinations also are available at the School Health Link, our cooperative pediatric clinic in Rock Island. Please call 309-732-0958.
 The effort is part of a statewide push through the Illinois Department of Public Health. RICHD's efforts also will include a social media campaign championing the safety and effectiveness of immunizations.
 Measles isn't just a little rash. Measles can be very serious. The disease can lead to brain swelling and brain damage. Even with the best possible care, infected children might die.
 Vaccines are safe and prevent horrible diseases. For several generations now, vaccines have been proven to be safe and highly effective.
RICHD also is working with schools and registered daycares in the county that have a 95 percent or lower vaccination rate. When a population is about 95 percent vaccinated, the risk of getting a preventable disease drops dramatically.  This is called "herd immunity." Most vaccine-preventable diseases are spread from one person to another. If one person in a community gets an infectious disease, he or she can spread it to others who are not immune. However, a person who is immune to a disease because he or she has been vaccinated cannot get that disease and cannot spread it to others. The more people who are vaccinated, the fewer opportunities a disease has to spread.  Further, infants cannot receive their first dose of the Measles-Mumps-Rubella (MMR) vaccine until their first birthday and have no protection from this dangerous and preventable disease.
Patients are asked to bring their insurance cards and verify that immunizations are included in coverage by calling the phone number on the back of the card before arriving at the clinic. Those who do not have insurance could qualify for no-cost immunizations through the federally funded Vaccines for Children program. During this special campaign, adults without insurance also might qualify for vaccinations at no cost.
About the Rock Island County Health Department
The mission of the Rock Island County Health Department is to prevent disease, promote wellness, and protect public health. To learn more visit or call us at 309-793-1955.