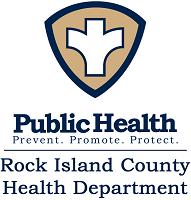 Third drive-through COVID vaccination clinic  –  Jan. 26
Vaccine type – Moderna
Vaccination clinics now require registration; link available Fridays at 10:00 a.m.
Registration Link for the January 26 clinic:  https://www.signupgenius.com/go/10C0F44ACAA2FA57-covid19
Please do not call the health department to schedule your time interval.  
We are making changes to our mass vaccination clinics every Tuesday at the Greater Quad City Auto Auction, 4015 78th Ave., Milan, in an effort to reduce wait times and traffic. We still are vaccinating people in Phases 1A (healthcare workers) and 1B (frontline essential workers and Rock Island County residents age 65 and older). You must now sign up for a 15-minute time interval. You might not receive the vaccine at the exact time you signed up for, but registration guarantees a dose for you and your place in line.
We have 600 doses available for Tuesday's clinic and will have 600 slots available to register for online. The registration link will go live at 10 a.m. every Friday that vaccine is available on our website, richd.org, and our Facebook page. Depending on supply from the State of Illinois, vaccine might not be available each week. We will announce how many doses, if any, will be available every Friday.
Please do not call the health department to schedule your time interval. At this time, the only way to reserve a dose for the mass vaccination clinics is through this link available at 10 a.m. Friday. Other options could be available in the future as more vaccine becomes available.
If you do not get a slot, please do not come to the auto auction on Tuesdays because we will not have vaccine to give you. You will be turned away at the entrance unless you have preregistered. Please bring your photo identification or other proof of identity.
To help ease traffic in the area, Rock Island County Sheriff's deputies will direct drivers to enter coming from the east. Drivers are encouraged to access 78th Avenue from U.S. 150 on the east side of the Quad-City International Airport. Drivers who come across the Veterans Memorial Bridge on the Milan Beltway from Moline will be directed to turn around at either 47th Street or 50th Street near the Group O facility to join the line heading west on 78th Avenue. Deputies will be on hand to direct traffic.
The auto auction's parking lot will be blocked off until shortly before 9 a.m., and a sheriff's deputy will be posted at the entrance.
Those who registered are asked to tune their radios to 89.7 FM once they reach the vaccination clinic site. We will provide information on the radio station about when your group will be allowed to move to the next checkpoint.
Please do not arrive more than 15 minutes before your registered time interval because you will not be able to enter at another time. Upon entering, those who registered will be asked to park in a holding area. Residents in that holding area will be told when to proceed to the next station.
After residents are vaccinated, they will need to observed for any potential reaction. Portable toilets will be available near the entrance and near the waiting areas in the parking lot.
Anyone who is not coming to the clinic, going to work at a nearby business, or visiting a business near 78th Avenue is asked to avoid the area. Please do not block streets and business driveways.
We believe that these changes will significantly reduce wait times and traffic in the area, but we must rely on you to follow directions and not come to the site early or without a time slot. All vaccine at the clinic will be given to people who have registered.
Vaccine allotments coming into Rock Island County remain low.
Any allotment of doses to Rock Island County must be distributed between the mass vaccination clinics and our partners that also are vaccinating people in Phases 1A and 1B. These include UnityPoint-Trinity, Genesis, Community Health Care, and Jewel-Osco. At this point, UnityPoint-Trinity, Genesis and Community Health Care are focused on vaccinating groups in Phases 1A and frontline essential workers in 1B. Each partner sets its own process for administering the vaccine. Please check the appropriate partner's website for how to reserve your dose. Slots at this time are very limited because vaccine doses are very limited.
At this time, vaccine supply is low. You may not be able to get your second dose at day 21 (Pfizer) or day 28 (Moderna). If it not available to you at that time, the CDC recommends that you get the second dose as soon as you can.
Finally, please do not call the auto auction to ask questions because staff there will not have the vaccine information you seeking. The health department will provide updates as needed through these media briefings, on our website, or Facebook page and on togetherqc.com. We are grateful for the partnership with Greater Quad City Auto Auction owner Larry Anderson and his staff in providing his business for this valuable community service.
Healthcare workers and those defined in Phase 1B below are eligible to receive the vaccine at this clinic, with appropriate identification. RICHD leaders expect to have clinics at the auto auction most Tuesdays until every resident has an opportunity to take the vaccine through this phased approach outlined by the Illinois Department of Public Health. Masks and social distancing requirements will be enforced.
Healthcare workers include: clinicians, (nurses and nursing assistants, physicians, nurse practitioners, physician assistants), physical/occupational/speech therapists, respiratory therapists, dentists, dental hygienists, pharmacists, plasma and blood donation staff, morticians, home health workers, school nurses, optometrists, COVID-19 testing staff, dialysis staff, urgent care workers, corrections nurses/aides, vaccine clinic workers, group home residential staff, environmental service and reception staff at congregate care facilities, congregate care surveyors, hospice and palliative care staff, and community health workers when acting as health aide or health translators.
Phase 1B groups include:
Residents 65 and older (different from federal recommendation of age 75 and older)
Frontline essential workers, defined as those workers who are essential for the functioning of society: The state listed several groups as being in Phase 1B, but officials said this is not an exhaustive list:
First responders: Fire, law enforcement, 911 workers, security personnel, school officers
Education: Teachers, principals, student support, student aides, day care worker
Food and agriculture: Processing, plants, veterinary health, livestock services, animal care
Manufacturing: Industrial production of goods for distribution to retail, wholesale or other manufacturers
Corrections workers and inmates: Jail officers, juvenile facility staff, workers providing in-person support, inmates
U.S. Postal Service workers
Public transit workers: Flight crews, bus drivers, train conductors, taxi drivers, para-transit drivers, in-person support, ride-sharing services
Grocery store workers: Baggers, cashiers, stockers, pickup, customer service
Shelters and day care staff: Homeless shelter, women's shelter, adult day/drop-in program, sheltered workshop, psycho-social rehab
IDPH has yet to set groups beyond Phases 1A and 1B. We will tell you when it does.
There will be no out-of-pocket cost to receive the COVID-19 at a RICHD drive-through COVID-19 vaccination clinic. Other providers may charge an administrative fee that could be billed to insurance, Medicare or Medicaid.
In addition, we have worked out final partnership details with Jewel-Osco pharmacies in the county to offer vaccines. Healthcare workers can make appointments online for Jewel-Osco at www.albertsons.com/covidclinc.  Patients will be asked to show proof of employment, including a work badge, pay stub, medical license (if applicable) or letter on the employer's letterhead.
The pharmacy has three locations in Rock Island County:
 2010 1st. St. A, Moline
107 Avenue of the Cities, East Moline
1312 John Deere Expressway, Silvis
"We ask for your patience as we move through the largest public heath undertaking in modern history," said Nita Ludwig, administrator of the Rock Island County Health Department. "We have a plan to vaccinate every eligible resident in Rock Island County, but it will take time. Your turn will come. Please continue to wear your mask, keep 6 feet between you and others and wash your hands frequently."
Both vaccines given emergency use approval by the federal government require two doses. You will receive a vaccination card noting what vaccine you were given and when you must come back for your second dose. We suggest taking a picture of the card in case you lose it.
More information will be released as it becomes known. Please keep watching through our media partners, our social media page, our website and togetherqc.com.
****Community Health Care, Inc. is helping the Rock Island County Health Department provide COVID vaccine's to Phase 1A: Health Care Workers. If you are a healthcare worker please email covidvaccine@chcqca.org for additional instructions on how you can sign up today****
###
Upcoming IDPH COVID-19 drive through test site dates at the TaxSlayer Center:
Friday/Saturday     January 8 & 9, 2021            8am – 4pm
Monday                    January 11                       8am – 4pm
Saturday                   January 16                      8am – 4pm
Thursday/Friday    January 21 & 22                   8am – 4pm
Tuesday                    January 26                      8am – 4pm
Thursday                  January 28                      8am – 4pm
Local Op-ed COVID-19 Vaccine – Janet Hill, Rock Island County Health Department 1-5-21
Question and answers to planning for COVID-19 vaccine distribution
The first questions were answered by Edward Rivers, director of the Scott County Health Department
Vaccine 101: What we know now
The first questions were answered by Edward Rivers, director of the Scott County Health Department
It seems like the process for approving the vaccine moved really quickly. Did it?
Traditionally, it has taken many years to develop a vaccine, confirm its safety and efficacy, and manufacture the vaccine in sufficient quantities for public use. This timeline was shortened for the COVID-19 vaccines in development. Many of the steps taken in any clinical trial were allowed to take place at the same time instead of one after another.  Also, due to the pandemic the United States government and others have heavily invested in building the manufacturing capacity to produce large numbers of vaccine doses before the findings of the phase 3 trials were available.  This ensures that vaccine is available once the authorization is given.  None of the ways in which this vaccine development and production was sped up mean that short cuts were taken or safety was compromised.
What will the COVID-19 vaccine protect me from and for how long?
Both Pfizer and Moderna's vaccine trials have shown about a 95 percent success in protecting people from the SARS-CoV-2 virus. Experts do not know what percentage of people would need to be vaccinated to achieve herd immunity to COVID-19. Herd immunity is a term used to describe when enough people have protection—either from previous infection or vaccination—that it is unlikely a virus or bacteria can spread and cause disease. As a result, everyone within the community is protected even if some people don't have any protection themselves. The percentage of people who need to have protection in order to achieve herd immunity varies by disease.
When will the first vaccines begin to arrive in the community and how many doses will be available?
The Illinois Department of Public Health has told local health departments to expect the first shipments to arrive in Rock Island County sometime next week. The Rock Island County Health Department is expecting 1,000 doses that will be split evenly between UnityPoint-Trinity and Genesis health systems. From there, the hospital systems will triage doses to their healthcare team. Subsequent shipments also will go to the hospital systems.
After the hospital systems have vaccinated their team members, doses then will go to other medical first-responders, including paramedics.
The Iowa Department of Public Health also anticipates some vaccine will arrive in local areas next week.  Scott County is expecting about 2,000 doses that will primarily be going to Genesis and UnityPoint-Trinity.        We are awaiting final guidance from the state of Iowa and may adjust allocations next week to include emergency medical service providers
How will the community deal with the ultra-cold storage of the Pfizer vaccine?
The Pfizer vaccine is required to be shipped at up to 100 degrees below zero. However, it is stable for five days outside of that ultra-cold temperature. The Moderna vaccine does not need the ultra-cold storage.
The State of Iowa is only shipping the Pfizer vaccine to facilities and providers that have ultra-cold storage.  Certain facilities in Scott County are able to store vaccine in this type of storage.
The five-day clock starts ticking when the doses start to be transported to Rock Island County.
How many doses of the vaccine will I need?
Both the Pfizer and Moderna vaccines, which are expected to arrive in our community in the next two weeks, require two doses.
Individuals will receive the second dose of the vaccines after at least a 21 day wait for the Pfizer vaccine and after at least a 28 day wait for the Moderna vaccine.
Do both doses of the vaccine have to come from the same vaccine?
Yes, both doses must be of the same vaccine.  The vaccines cannot be interchanged.  As individuals are given their first dose of vaccine, the vaccine manufacturer and other information is recorded in the state's immunization registry for future use.
Will I be able to choose which of the COVID-19 vaccines I want?
When limited supply of vaccine first makes its way to our community and is provided to priority groups such as health care workers, individuals in the priority groups will be provided the vaccine that is available at the time based on supply and distribution factors.
When enough vaccine is available in our community for everyone who would like to receive it, it is likely that individuals will have greater choice in which vaccine they receive and where they receive it.
How do we know if the COVID-19 vaccine is safe?
Vaccine safety is a priority – new vaccines undergo serious reviews in a lab and through trials.  Early results from trials show the COVID-19 vaccine has worked as it is supposed to with no serious side effects.  These results include the more than 2-3 months of follow-up of individuals involved in the vaccine trials.
There is solid medical and scientific evidence that tell us the benefits of approved vaccines far outweigh the risks.  This is also true for the COVID-19 vaccine.
The FDA advises manufacturers that at least 3,000 participants are required to assess safety. The current Phase 3 of trials have included 30,000-50,000 participants.
Vaccine approval normally includes four phases. Once the vaccine is approved after Phase 3, Phase 4 will continue and will include continued monitoring and gathering of safety data.
What reaction should I expect after getting the vaccine?
The vaccine does not cause someone to get sick with COVID-19.  Vaccines teach our immune systems how to recognize and fight the virus that causes COVID-19. Sometimes this process can cause symptoms, such as a sore arm, headache, chills or fever. These symptoms are normal and are signs the body is building immunity.
You can expect side effects to go away without complication or injury within about a day or two. Remember, these are signs that your immune system is responding to the vaccine and building immunity.
The next set of questions were answered by Janet Hill, chief operating officer, Rock Island County Health Department
I already had COVID-19, should I still get the vaccine?
Not enough is known about how long natural immunity lasts for those that have recovered from the virus. The CDC is still learning more about natural immunity to COVID-19.  The CDC Advisory Committee on Immunization Practices (ACIP) will make recommendations to CDC on who should get a COVID-19 vaccine.
The vaccine can increase your protection from the virus.
I'm healthy.  Why do I need to be vaccinated?
While you may be healthy, many individuals in our community have risk factors for getting serious complications from COVID-19 infection. Getting a COVID-19 vaccination protects you so you may protect others around you as well.
I'm nervous about getting the vaccine.  What should I do?
It's normal to be nervous about something new and to have questions.  We encourage you to ask questions and get answers to your questions from reliable sources.  We recommend looking for information from the CDC, the FDA (Food and Drug Administration), both state health departments, and our local health departments.
As it gets closer to the time when the vaccine may be available for you, your healthcare provider will also be a great resource to talk with about the COVID-19 vaccine.
How will I know it's my turn to get the vaccine?
We have a team in place working hard to communicate this important information to our community.  You can expect to get information from our departments, through avenues such as social media, our website, our local media partners, and also local healthcare providers.
There is no "list" that any first responder, healthcare worker or member of the public needs to get on at this point.
The rollout of the COVID-19 vaccination program can be compared with the rollout of new software for phones – we expect some challenges, and we'll work quickly to meet them.
Where will I get the vaccine when it's my turn?
The first priority groups to get the COVID-19 vaccines will likely get the vaccine through their employer or at a community-based site. As more vaccine makes its way into our community, we expect to continue using community-based sites.  Once the vaccine is available to all who would like it, individual healthcare providers will likely have a role in also giving the vaccine.  These plans are changing as we learn more about the vaccine supply and federal and state recommendations.
Once I receive the vaccine, will I still need to wear a mask and social distance?
We will still need to wear masks and practice physical distancing until a large proportion of the population is vaccinated and we are sure the vaccine provides long-term protection. Initially, we will not have enough vaccine to vaccinate everyone who wants the vaccine and the virus still will be transmitted.
Will I have to pay for the vaccine?
The federal government is committed to providing free or low-cost COVID-19 vaccines. Vaccine doses purchased with taxpayer dollars will be given at no cost.  There may be an administration cost that is covered by insurance or other sources for individuals without insurance. Cost will not be a barrier.
What can you tell us about the new method of vaccine being used, called mRNA vaccines?
They cannot give someone COVID-19.
mRNA vaccines do not use the live virus that causes COVID-19.
They do not affect or interact with our DNA in any way.
mRNA stimulates the body's cells to produce a protein that looks like the COVID virus to our immune system. This kickstarts the product of antibodies that fight the actual virus.
mRNA never enters the nucleus of the cell, which is where our DNA (genetic material) is kept.
The cell breaks down and gets rid of the mRNA soon after it does its job.
For Illinois, how do we know that downstate is getting its "fair share?"
The City of Chicago is getting separate shipments of vaccines from the federal government.
The rest of Illinois will receive shipments through the Illinois Department of Public Health, which determined that 50 counties in the state will get doses first because of their case counts. Rock Island County is among those first 50 counties.
When will children be given the vaccine?
The Moderna vaccine has included children in its clinical trials. We expect more information about results when the Moderna vaccine receives emergency use authorization from the FDA. This could be as early as next week.
If a pediatric vaccine is approved, children will be prioritized along with all of other groups.  Some may fit in with other groups, including those with chronic disease, essential workers, etc.
Sources for these answers
https://www.cdc.gov/coronavirus/2019-ncov/vaccines/faq.html
https://coronavirus.jhu.edu/vaccines/vaccines-faq
https://coronavirus.ohio.gov/wps/portal/gov/covid-19/resources/general-resources/frequently-asked-questions+covid-19-vaccine
More information
###
Who is involved in the vaccination planning in the Quad Cities?
Our health departments, emergency management agencies, our local health systems (Genesis and UnityPoint) and Community Health Care, the local federally qualified health center.
We are meeting frequently and updating our plans as new information is released from the CDC and the state health departments.
What do these plans include?
These plans include education on the vaccine, how we will store vaccine, where it will be given, and how we will communicate to individuals when their turn to get the vaccine has come.
Giving vaccine during a public health pandemic where social distancing is so important adds more challenges to planning for vaccinations for the general public; however, our plans are addressing these important factors too.
Should we expect the vaccine distribution to be similar in Iowa and Illinois?
Unfortunately, probably not.  Similar to the beginning of the pandemic, we are planning for the rollout of vaccine distribution to be different between Rock Island and Scott Counties due to the fact that they are guided by two different states.
We know this can be frustrating and can add another layer of challenges not only to our planning and our communication with the community – but it is also frustrating for the community when the rollouts are different.  We realize we are going to need to be flexible and make changes to our plans as new information and guidance is given to each of our counties.  Please be patient with us!
Who is making the decision for which groups get the vaccine when?
There is a federal advisory group called the Advisory Committee on Immunization Practices.  This group has announced their recommendations for the first phase of COVID-19 vaccination.  The committee recommended that vaccine should first be offered to health care personnel and residents of long-term care facilities.
In Iowa, an Infectious Disease Advisory Committee has been created to provide further guidance on the order in which individuals in this first phase of the vaccine will get vaccinated.
The Illinois Department of Public Health also is working on its phased approach. It is adopting the National Academies of Science, Engineering, and Medicine's (NASEM) "A Framework for Equitable Allocation of COVID-19 Vaccine."
Why will healthcare workers and residents of long-term care facilities get the vaccine first?
As prioritization discussions took place at the federal level, the factors that played a role in the priority group decision-making involved:

Decrease death and serious disease as much as possible
Preserve functioning of society
Reduce the extra burden the disease is having on people already facing disparities
Increase the chance for everyone to enjoy health and well-being

Healthcare workers, in particular those in hospital settings, are at the front of the line to get the vaccine because of their exposure to patients and their vital presence to keep the healthcare system running.
As more vaccine becomes available, additional healthcare workers will receive the vaccine.
Residents in long-term care facilities have accounted for a large proportion of hospitalizations and deaths, which indicates that these individuals have been bearing a greater burden of the negative outcomes from COVID-19.
These factors contributed to the committee's recommendation to prevent spread by protecting those on the front lines, healthcare workers treating COVID-19.
Once these groups have been vaccinated, the next group in the priority list will begin to receive the vaccine.
The next set of questions were answered by Nita Ludwig, administrator, Rock Island County Health Department
How will I know when it's my turn to get the vaccine?
We have a team in place working hard to communicate this important information to our community.  You can expect to get information on this from our departments, through avenues such as social media, our website, our local media partners, and also local healthcare providers.
When will businesses/workers get the vaccine?
While we can't give an exact timeline, we do know that the national proposed priority group recommendations have essential workers listed in phase 1b.  This means they would be next in line after all healthcare workers and long-term care residents have received vaccine.
We expect guidance to come out that tells us who those essential workers are.
What should my business be doing right now to prepare for the vaccine that is to come?
We encourage all businesses to learn more about the COVID-19 vaccine to help you begin the first phases of planning for vaccinating your employees.
The CDC has frequently asked questions about the vaccine that can be helpful.
Employers can also begin making sure they keep an updated roster of their employees and the role they play in the organization.  If vaccine continues to be limited, some employees of a business may meet the definition of essential workers while others may get the vaccine at a later date.
We promise to share more information regarding the groups getting vaccinated in Phase 1b when it is available to us.
When will I know that it is our turn to get the vaccine for my business and employees?
As we move through the Phase 1a vaccinations of our healthcare workers and long-term care residents, we will begin more detailed planning for Phase 1b.  This planning will include communicating new information and timelines to businesses with essential workers in our community.
We ask you to be patient with us as we wait for this to roll out and new guidance to be shared.  We know it's difficult to not have the answers at this time.
Where should I look to learn more about the vaccine?
First, it is most important to use reliable sources of information when learning about the COVID-19 vaccine.  This type of information is researched, written, approved, and peer-reviewed by subject matter experts.
Locally, reliable information is available on the Scott and Rock Island County Health Departments' websites.
The QC COVID-19 Coalition also has a website, togetherqc.com.  This site has very similar information on the vaccine from the CDC and state health departments.
Your healthcare provider will also be a good source of information on the vaccine when it comes closer to your turn to receive it.
What main message would you like to share with the community about the role each person plays in our vaccination plans?
While our plans are vast and involve lots of factors, we are planning how we will make vaccine available to everyone in our community.
When your turn comes, please consider getting the COVID-19 vaccine.
The more individuals that are vaccinated in our community, the greater likelihood we have of slowing down the virus.  The vaccine, along with wearing a mask, social distancing, washing your hands, and staying home when you are sick, will be an important tool in helping slow the spread.
More information
For County Level COVID-19 Risk Metrics, visit www.dph.illinois.gov/countymetrics
WIC is here for you during COVID-19 (English)
WIC is here for you during COVID-19 (Spanish)
If you were tested at the Camden Center, QCCA Expo Center or TaxSlayer Center test site, you can get results by: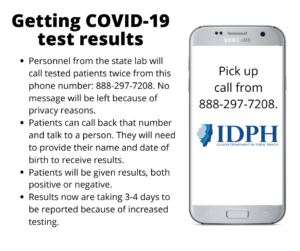 Total number of positive COVID-19 cases reported to Rock Island County Health Department:    11,912**    Deaths:  290
**Numbers will be reported daily.
HOW DO MASKS HELP (Click to read)?
The Illinois Department of Public Health (IDPH) in coordination with the Illinois Poison Control Center have launched the Illinois COVID-19 Hotline and email address to answer questions clinicians and the general public may have regarding  COVID-19.
Illinoisans can dial 1-800-889-3931 twenty-four hours a day, seven days a week or email DPH.SICK@ILLINOIS.GOV to get their questions answered.
COVID19 Media Briefing 1-22-21
COVID-19 Media Briefing 1-21-21
COVID-19 Media Briefing 1-20-21
COVID-19 Media Briefing 1-19-21 (2 days)
COVID-19 Media Briefing 1-17-21
Jewel-Osco Partnership Media Release 1-16-21
COVID-19 Media Briefing 1-16-21
COVID-19 Media Briefing 1-15-21
COVID-19 Media Briefing 1-14-21
COVID-19 Media Briefing 1-13-21
COVID-19 Media Briefing 1-12-21
COVID-19 Media Briefing 1-11-21
COVID-19 Media Briefing 1-10-21
COVID-19 Media Briefing 1-09-21
---
What is COVID-19? Guidance for Work Crews (Migrant Farm Workers -English)
Que es COVID-19? Guidance for Work Crews (Migrant Farm Workers – Spanish)
Quad City Behavioral Health Coalition COVID-19 Service List
---
ROCK ISLAND COUNTY COVID-19 UPDATE 5-4-20
---
COVID-19 FAQs                                          COVID-19 media Briefing 3-17-20
IDPH COVID-19 webpage                             CDC COVID-19 webpage
Governor Pritzker's Proclamation for bars and restaurants.
County Level COVID-19 Risk Metrics
Other important news from the WIC office:  WIC is not affected by recent Federal public benefit policy.  Click here for more information:  WICpublicchargeFAQ013120
About the Rock Island County Health Department
Rock Island County Health Department prevents disease, promotes wellness of mind and body, protects public health and prepares for emergencies.   To learn more visit or call us at 309-793-1955.