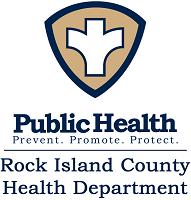 Rock Island County Health Department
Walk-In COVID-19 Vaccine Clinics
The health department will offer walk-in vaccine clinics twice a week at its offices at 2112 25th Ave., Rock Island. The schedule:
Moderna and Johnson & Johnson: Tuesdays, 9 a.m. to noon and 1-4 p.m.
Pfizer: Fridays, 9 a.m. to noon and 1-4 p.m.
In addition, healthcare and pharmacy partners continue to offer all three vaccines. To find a provider, visit vaccines.gov. You can search by ZIP code and vaccine manufacturer.
Updated 12/28/21 Isolation & Quarantine Guidance from CDC Click here
Rock Island County Health Department to hold Pfizer clinics for kids aged 5-11
The Rock Island County Health Department will offer Pfizer COVID-19 vaccinations for kids aged 5-11 in the lower level clinic at its offices at 2112 25th Ave., Rock Island. Children will be vaccinated in private clinical rooms. Appointments are limited for the first few clinics. Clinics will be offered Fridays by appointment only.

Check the Rock Island County Health Department Facebook page periodically for updates. Appointments will be made through our Facebook page (https://www.facebook.com/RockIslandCountyHealthDepartment) only. You do not need a Facebook account or a Sign Up Genius account to schedule an appointment. We expect these appointments will be filled very quickly.
List of Locations offering Pediatric Vaccines Click Here
________________________________________________________________________
COVID-19 Vaccine Booster Shots
The Rock Island County Health Department has begun giving booster shots for qualifying patients who received their second dose of the Pfizer and Moderna vaccine at least six months ago.
If you received Pfizer-BioNTech or Moderna you are elgible for a booster if you are:
If you received Johnson & Johnson's Janssen you are elgible for a booster if you are:
When to get a booster:
At least 2 months after your shot
Contact Tracing Updates 01/12/2022
Rock Island County Health Department has worked diligently to keep the community informed throughout the pandemic. We understand that some community members might like more information or to see specific data, but with a small number of staff and continuation of other programs, we have had to maintain a balance. Overall, the department's staff worked to protect the public's health during the most difficult of circumstances. Our role is to help provide resources, reliable information, focus efforts on the prevention of illness, and prepare for emergencies. We are proud of our staff's efforts and the community partnerships we have forged during the pandemic. We will continue to serve the public in promoting prevention efforts, but individuals must take personal responsibility to ensure the community's safety.
Vaccination remains our best tool to end the pandemic, but only about 60% of Rock Island County residents 5 and olderarefully vaccinated. As a result, our case counts have risen to all-time highs. Health departments throughout Illinois, including RICHD, do not have enough staff to address all calls that will be coming in from the community during this most recent surge. All county health departments and hospitals in the state are overwhelmed. As a result, the Illinois Department of Public Health, or IDPH, determined that centralizing contact tracing is the best move to help address the high volume of cases for all local health departments.
We share this public message now because the Rock Island County Health Department will have a more limited role in contact tracing going forward. As of Jan. 13, all COVID-19 patients will receive an automated telephone or text message informing them of isolation or quarantine information. All cases will be sent to the IDPH Surge Center to help automate the information provided so individuals have quick access to the best public health guidance. Other states, including Iowa, have used a similar process to help reduce call volumes for the local health departments and to disseminate information as quickly as possible to positive patients.
All productive societies require some personal responsibility from its members. If you test positive, you should share your information regarding your symptoms, positive tests, or exposure with your worksite, family, friends, and others that you care about before or after gathering. Although we have helped guide the community through recommendations and best practices, individuals now generally should know what to do and when to do it. The most up-to-date isolation and quarantine information is included at the bottom of this message.
Moving forward, if you need letters for release from work you will need to request them from the state's automated system. If you don't participate in the assessments offered, it will not generate release letters. RICHD cannot issue release letters because this process is part of the centralized contact tracing efforts. The state's surge center will take over all calls, but if you don't get a call, you still must follow isolation and quarantine rules. Please follow recommendations below to protect yourself and others. For the health of our healthcare workers and everyone in the community, COVID-positive patients must stay home. Those who take home tests also must follow isolation and quarantine rules to keep all of us as safe as possible. We all have the tools to prevent severe illness: vaccination, boosters, masking, social distancing, handwashing, disinfection, and isolating when you are sick.
We will continue to provide links on Facebook and our website with timely information that will help guide actions that are needed. This information might continue to change, so please ensure you are following the most up-to-date recommendations. The vaccine is readily available to help reduce severe illness and death. It is up to you to protect yourself, your family and your community. We will continue to provide all immunizations. We offer the Moderna and Johnson & Johnson vaccines on Tuesdays and the Pfizer vaccines on Fridays. Hours for both days are 9 a.m. to noon and 1-4 p.m. Pediatric Pfizer clinics are on Fridays. Links for appointments are posted on RICHD's Facebook page at 10 a.m. Wednesdays. You can find other providers at vaccines.gov.
RICHD staff members will continue to address calls and concerns, but the IDPH Surge Center is not staffed by Rock Island County Health Department employees. Please understand that our staff will continue to do all that we can to represent Rock Island County and to address your calls and concerns as we hear from you. We care deeply for this community. Please help us protect the public's health.
As of Jan. 13, this is the CDC isolation and quarantine guidance for the general public:
Isolation after a positive test, regardless of vaccination status
Stay away from everyone for five days. Day 0 is the day you feel symptoms or your test date if you don't feel symptoms (may include fever, chills, sore throat, cough, shortness of breath, body aches, loss of taste and/or smell).
After five days if you have not had any fever for the last 24 hours and your symptoms are getting better, you can leave isolation.
You must continue to wear your mask strictly for the next five days.
Quarantine after a close contact
If you come into close contact with someone with COVID-19, you should quarantine if you are in one of the following groups:
You are ages 18 or older and completed the primary series of recommended vaccine, but have not received a recommended booster shot when eligible.
You received the single-dose Johnson & Johnson vaccine (completing the primary series) over 2 months ago and have not received a recommended booster shot.
You are not vaccinated or have not completed a primary vaccine series.
Vaccinated and boosted close contacts:
Do not need to quarantine.
Should seek testing on Day 5 and if the test is positive, should isolate with the above guidance.
Should wear a mask for 10 days after the exposure.
_________________________________________________________________________
Eligible patients may choose which vaccine they receive as a booster dose. Some people may have a preference for the vaccine type that they originally received, while others may prefer to get a different booster. CDC's recommendations now allow for this type of mix and match dosing for booster shots. If you have questions as to which booster to receive, RICHD recommends you have a discussion with your medical provider or consult reliable and trusted sources.
The health department also is continuing to give Pfizer and Moderna booster shots for immunocompromised people. They can be given four weeks after the second dose. The health department's Moderna clinic is weekly on Tuesday.
Masks are required at the health department, and social distancing guidelines will be enforced, which could require lining up outside.
These third shots only apply to mRNA COVID-19 vaccines, not the one-dose Johnson & Johnson vaccine.
To get a copy of your shot record:
The Illinois Department of Public Health (IDPH) is launching a new immunization portal, Vax Verify, that will allow Illinois residents 18 years and older to check their COVID-19 vaccination record. Vax Verify can be accessed at
https://idphportal.illinois.gov
_________________________________________________________________________
Vaccine basics and reminders
What is my second dose optimal window?
Pfizer is 21-42 days and Moderna is 28-42 days. Johnson & Johnson is a one-dose vaccine. If you miss your second dose optimal window, get your second dose as soon as possible. You must receive the same brand of vaccine for your second dose.
Why must I get a second dose?
The Moderna and Pfizer vaccines are a two-dose series. The first doses primes your body to fight the virus. The second dose gives your body an antibody boost that makes immunity last longer. Until you get your second dose, you remain at risk of being infected with the virus. The Johnson & Johnson vaccine is designed to be a one-dose vaccine and provides excellent protection against serious illness and death.
Is there a cost to getting the vaccine?
There is no cost to you to receive the vaccine. Some providers may ask for your insurance card, but there is no out-of-pocket cost to you. You can be vaccinated even if you don't have insurance. The federal government has paid for the vaccine.
Why is my vaccination cards so important to keep?
You must bring it to your second-dose appointment, no matter where you receive your dose. This is how your vaccine provider will confirm what vaccine to give you. We suggest keeping it in a safe place, such as where you keep your Social Security card, passport and other important documents. We do not suggest laminating them, but you should make a copy.
What identification is needed?
You may be asked for proof of identification with a photo. Driver's license is a typical form of ID. Any government-issued ID will be accepted as well, including a Temporary Visitor Driver's License, a consular ID, or a domestic or foreign passport. Not having identification will not be a barrier to getting vaccinated.
What if I am not an American citizen?
Any person 16 and older, regardless of immigration status, can and should be vaccinated. No immigration status questions will be asked. Your information is confidential. Information collected is for follow-up purposes only and to record which vaccine you received. Vaccine providers may not share your information with ICE or any other immigration official. No immigration status or Social Security number is required.
What are the authorized ages for vaccines?
Pfizer can be given to people 12 and older. Moderna and Johnson & Johnson can be given to people 18 and older.
Why do I still need a mask in public?
Illinois remains under a mask mandate. The general rule is to wear a mask when you can't distance yourself more than 6 feet from others outside of your household, especially indoors. If you are fully vaccinated (two weeks past second dose) you can take off your mask when you are around other fully vaccinated people, even indoors. When you are in public, you need to wear your mask until the vast majority of the public is fully vaccinated. This is called herd immunity. Getting as close to herd immunity as possible is what will get us out of this pandemic.
Why should I get vaccinated?
The vaccine protects you, your family and your community from this deadly virus. The vaccine has been shown to inhibit transmission, which keeps the virus from infected more people. The more people who have been vaccinated makes all of us safer from the virus, even those who are too young to be vaccinated. This is called herd immunity. Even if we don't reach the yet-to-be-known herd immunity threshold, having more people vaccinated will make it less likely that the virus will be circulating in our community.
How do I know the vaccines are safe and effective?
Scientists determine the safety and efficacy of a vaccine through regimented clinical trials, which typically are done in three phases with a growing number of participants. None of these steps were skipped in the development of any of the COVID-19 vaccines. The vaccines became available faster because scientists had a head start in their development because of vaccine work during a previous and very similar coronavirus outbreak (SARS-CoV) that, thankfully, did not develop into a pandemic. Ongoing scientific development led to a new method for a vaccine delivery method with messenger RNA, or mRNA.
Can pregnant women get the vaccine?
Yes, if you are pregnant, you can receive a COVID-19 vaccine. COVID-19 vaccination for people who are pregnant has potential benefits for both the pregnant person and the developing baby. Preliminary findings in scientific studies did not show obvious safety concerns among pregnant people who received mRNA vaccines.
Do both doses of the vaccine have to come from the same vaccine?
Yes, both doses must be of the same vaccine. The vaccines cannot be interchanged. As individuals are given their first dose of vaccine, the vaccine manufacturer and other information is recorded in the state's immunization registry for future use.
What reaction should I expect after getting the vaccine?
The vaccine does not cause someone to get sick with COVID-19. Vaccines teach our immune systems how to recognize and fight the virus that causes COVID-19. Sometimes this process can cause symptoms, such as a sore arm, headache, chills or fever. These symptoms are normal and are signs the body is building immunity.
You can expect side effects to go away without complication or injury within about a day or two. Remember, these are signs that your immune system is responding to the vaccine and building immunity.
I already had COVID-19, should I still get the vaccine?Not enough is known about how long natural immunity lasts for those that have recovered from the virus. The CDC is still learning more about natural immunity to COVID-19. The CDC Advisory Committee on Immunization Practices (ACIP) will make recommendations to CDC on who should get a COVID-19 vaccine.
The vaccine can increase your protection from the virus.
I'm healthy. Why do I need to be vaccinated?
While you may be healthy, many individuals in our community have risk factors for getting serious complications from COVID-19 infection. Getting a COVID-19 vaccination protects you so you may protect others around you as well.
I'm nervous about getting the vaccine. What should I do?
It's normal to be nervous about something new and to have questions. We encourage you to ask questions and get answers to your questions from reliable sources. We recommend looking for information from the CDC, the FDA (Food and Drug Administration), both state health departments, and our local health departments.
As it gets closer to the time when the vaccine may be available for you, your healthcare provider will also be a great resource to talk with about the COVID-19 vaccine.
What can you tell us about the new method of vaccine being used, called mRNA vaccines? (MODERNA & PFIZER)
They cannot give someone COVID-19.
mRNA vaccines do not use the live virus that causes COVID-19.
They do not affect or interact with our DNA in any way.
mRNA stimulates the body's cells to produce a protein that looks like the COVID virus to our immune system. This kickstarts the product of antibodies that fight the actual virus.
mRNA never enters the nucleus of the cell, which is where our DNA (genetic material) is kept.
The cell breaks down and gets rid of the mRNA soon after it does its job.
Emergency Use Authorization (EUA) of the Moderna COVID-19 Vaccine
Emergency Use Authorization (EUA) of the Pfizer-Biontech COVID-19 Vaccine
Emergency Use Authorization (EUA) of the Janssen COVID-19 Vaccine
Ways to register for vaccine:
Total number of positive COVID-19 cases reported to Rock Island County Health Department: 27,475** Deaths: 433
**Numbers Reported Daily
Sources for these answers
COVID MEDIA RELEASES
COVID-19 Media Briefing 1-14-22
Friday and Saturday Pediatric Clinics 1-13-22
COVID-19 Media Briefing 1-12-22
COVID-19 Media Briefing 1-10-22
COVID-19 Media Briefing 1-07-22
COVID-19 Media Briefing 1-05-22
COVID-19 Media Briefing 1-03-22
COVID-19 Media Briefing 12-29-21
COVID-19 Media Briefing 12-27-21
COVID-19 Media Briefing 12-22-21
COVID-19 Pfizer Booster 16 & 17 year olds 12-09-21
COVID-19 Pediatric Dose Update 11-29-21
COVID-19 – Updated list of where people can get kids 5-11 vaccinated for COVID-19
COVID-19 Media Briefing Sat Nov. 20th kids Clinic
RICHD CHILD PFIZER CLINICS 11-3-21
CDC Health Advisory: COVID-19 Vaccination for Pregnant People to Prevent Serious Illness, Deaths, and Adverse Pregnancy Outcomes from COVID-19
COVID-19 Booster Shots & Child Vaccine Q&A
For County Level COVID-19 Risk Metrics, visit www.dph.illinois.gov/countymetrics
The Illinois Department of Public Health (IDPH) in coordination with the Illinois Poison Control Center have launched the Illinois COVID-19 Hotline and email address to answer questions clinicians and the general public may have regarding COVID-19.
Illinoisans can dial 1-800-889-3931 twenty-four hours a day, seven days a week or email DPH.SICK@ILLINOIS.GOV to get their questions answered.
---
More information
---
Other important news from the WIC office: WIC is not affected by recent Federal public benefit policy. Click here for more information: WICpublicchargeFAQ013120
WIC is here for you during COVID-19 (English)
WIC is here for you during COVID-19 (Spanish)
About the Rock Island County Health Department
Rock Island County Health Department prevents disease, promotes wellness of mind and body, protects public health and prepares for emergencies. To learn more visit or call us at 309-793-1955.